About Eline Peeters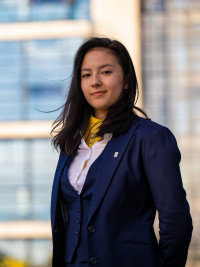 Hey you!
Good to see that you're either curing your boredom by exploring the Abacus website, or stalking me! In any of those two cases, let me tell you some way too detailed facts about my life.
It all started on 6 November 2001 in Zwolle, where I was brought to life one minute too early, at 20:53. I don't remember a lot of my first years, but I know I once had so much fun dancing to K3, that I accidentally smashed my head to our coffee table. This created a big bruise near my eye, of which I still get reminded up until today, because the bruise will appear again every time I cry (yes this is random, I know).
I went to primary school in Zwolle, at 'CBS de Ichthus'. Although I was born after October and I should've done an extra year of 1st grade, they thought I was smart enough and let me through to 2nd grade after the first summer break. A few months later my parents found out that I somehow taught myself how to read, so halfway through 2nd grade they let me skip to 3rd grade. When I was seven years old, I started joining gymnastics trainings, which I haven't stopped doing ever since. That same year I started taking lessons in harp, but after eight years I quit.
After primary school, I went to the 'Gymnasuim Celeanum' in Zwolle. I enjoyed my time there, and after three years I was very glad to be able to drop History and all languages. It's probably not too surprising that I chose the NT/NG profile (science stuff) with Management&Organisation and Mathematics D. Initially I was scared that choosing Maths D would be an overkill in math, but it turned out to be a good decision. Also after three weeks I changed from M&O to Economics, because I didn't like the bookkeeping part of M&O (lol).
Some day in these years I had a conversation with my dad about what things I actually spent my money on. I didn't really have a good overview, so he suggested I would keep track of my finances for just a few months, and so I did. This is probably the point where the treasurer inside of me got triggered. The overview started out quite small on paper, but eventually it became a habit and it has now grown to a massive Excel sheet that I still update today.
The years went by, I spent a lot of time studying to get my grades as high as possible, but the end of my time at secondary school was coming quickly. In contrast to many other people at Abacus, my choice for AM didn't come very easily. I had made a list of all 20 different studies I was interested in, which I visited at many different open days. However, after the talk I found out I didn't like the study and deleted it off my list. This continued for all 20 studies (yes, math was deleted too, because the guy at the TU/e was not convincing), so I ended up with nothing left on my list anymore… The registration deadline was coming close, so I looked at my list of grades, saw that I got highest for maths B and maths D, and came to the conclusion that I did actually like math! Because I was quite young still, I wanted to stay at my parents for the first year (many regrets), so I signed up for AM in Twente.
So there I was, as an innocent 16 year-old at the Kick-In with Abacus. I felt at home quickly and got to know many new people, but because of my daily three hour train rides, I unfortunately didn't visit many activities in my first year. This changed once I got my BSA and finally moved to Enschede, to a small house in Twekkelerveld with the beautiful house number: 54 (although I don't live there anymore). Not too surprisingly, I also joined the student gymnastics association Linea Recta without a doubt.
In my second year I became do-group parent, I joined the Christmas dinner committee, and the Educafé/Abscint became my second home. Unfortunately this changed at the end of that year with the corona pandemic, and boredom started to hit. Therefore, I spontaneously (and surprisingly) signed up for a spot in the Linea Recta board! The choice for a function was quite easy, as I liked keeping track of my finances and was interested in doing so for the association as well. So suddenly I was treasurer of a part time board with five other people I had never really talked a lot with. This changed very quickly and I made many of my best friendships with these people.
In the meantime, the corona pandemic was still going strong, and thus I was looking for more things to keep me busy. I joined the Prom committee at Abacus in the beginning of my third year, and halfway through I also joined the Twick-In 2021. My days gradually started to become filled with more committee and board work, and less with studying. Although some people see this as a bad thing, I was enjoying it a lot and it gave me a lot of energy.
Ever since my BSA confirmed my stay at AM, i wanted to get some study delay to compensate for the years I skipped at primary school. This didn't really work out though because my inner study nerd couldn't resist not studying for courses. This, together with the joy I grew in activism, eventually lead to me applying for a full time board year at Abacus. If you would've told this to freshmen-Eline, she wouldn't have believed you, but I am very glad that it turned out this way. Although we got charged just a little over a month ago, it has been an amazing experience so far and I'm excited for what is coming! It's great to be able to invite all members in the Abacus room again after such a long time, and to spend a large part of my day there.
This piece has already gotten longer than I wanted to, so it's time to wrap up. If you ever want to have a chat or have any questions, look for the Asian girl in the right corner of the room, sitting on her chair in a way you would consider as 'weird', and it's probably me!
Kind regards,
Eline Peeters
Treasurer of the 54th board of W.S.G. Abacus