Daan Velthuis - Chairman
Luuk van der Werf - Secretary & Officer Internal Affairs
Daan Pluister - Treasurer
Jorn de Jong - Officer External Affairs
Anouk Beursgens - Officer Educational Affairs
Clara Stegehuis - General Adjunct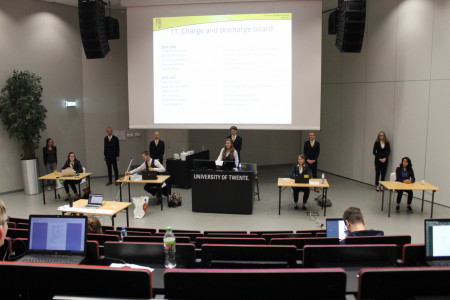 With pain in our hearts, we share that Dr. Harry Aarts passed away last Sunday, the 9th of August. He was 59 years old.
Harry, who graduated as mathematician in Nijmegen, obtained his PhD at the University of Twente in 1994. As a teacher, he was a member of the Discrete Mathematics and Mathematical Programming group. He worked for the University of Twente for almost 25 years.
Although Harry had outstanding qualities as a researcher, his true passion was teaching. His unique qualities as a teacher led to no less than five teaching awards. Apart from that, Harry had a major responsibility in the mathematics component of all engineering programmes of the university.
Harry had to give up his fight against cancer, that started in 2018. We'll deeply miss his quiet presence and performance, his friendly nature, his humor and his smile. Many students highly valued his lectures.
Our deepest sympathies go to his family and friends.
On behalf of the board,
Linda, Martijn, Sanne, Marjolein and Tugce.
Show image
The past weeks, the Education committee has rewarded several employees with a bouquet of flowers. They deserve this because of their hard work for the students and the effort that they put in their work
The first one to receive a bouquet was Pranab Mandal. He has only been the programme director of AM for half a year and is working on the implementation of TOM 2.0. With that, he now also has to deal with the current Covid-19 situation. These have a quite a lot of workload and having to juggle both definitely deserves a bouquet!
Also, Jasper de Jong has received some flowers. He always puts a lot of effort in his lectures and is very enthusiastic about his topics. This motivates students and he is also very involved in the student's interests. For all this, a colorful bouquet of flowers is in the right place.
Furthermore, Lilian Spijker, our study advisor, received flowers too. Even though she is not a teacher, she still does a lot for students in the background, especially in these times.
Last but not least, Gjerrit Meinsma received the most votes in our poll. Due to the current situation, lectures have to be given in another form. The students' opinion is that Gjerrit has very clear online lectures and responses to his email quickly if student's have questions. For dealing with this situation so well, it deserves flowers.
Thank you all for your effort and hard work. Keep it up!
Show image
| | |
| --- | --- |
| 16:00 | Come by for merchandise and/or a drink! |
| | |
| --- | --- |
| 19:00 | Beat the other study associations! |
16:00

FriAD Proto @

In front of Zilverling

Proto kicks off the weekend!
16:00

FriAD Abacus @

In front of Zilverling

The (A)bac(ch)us kicks off the weekend!
| | |
| --- | --- |
| 14:00 | ORTEC will give a case, after the case, there will be a drink. This case will be together with Stress. |