Linda ten Klooster - Chairman and Officer Educational Affairs
Martijn ter Steege - Secretary and Officer Internal Affairs
Sanne Oude Veldhuis - Treasurer
Marjolein Bolten - Officer External Affairs
Tugce Akkaya - General Adjunct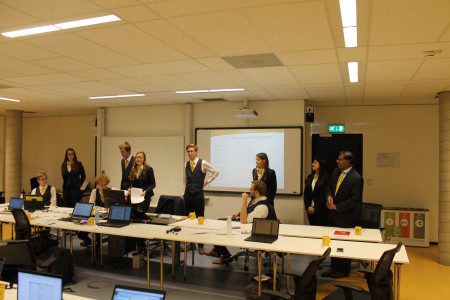 As of September the 1st, Applied Mathematics has a new Bachelor Coordinator: Judith Timmer. Many thanks go to Lotte Weedage who supported the Bachelor Applied Mathematics as an interim coordinator for the last few months. We are looking to collaborate with Judith in the upcoming years!
Show image
Last April Yael Veenstra-Konzizky took her leave as Bachelor Coordinator of AM to fulfill other work within the university. She had the following to say to the students:
It was a great pleasure getting to know you all and being part of your special community in the past 1.5 years. Wishing you all success and prosperity with your studies and achieving your goals in life. You're welcome to contact me always.
Sincerely and all the best!
Yael
In the meantime, Lotte Weedage is fufilling some tasks as (unofficial) interim Bachelor Coordinator. You can reach her via education-bam@utwente.nl
| | |
| --- | --- |
| 16:00 | Come along and buy the coolest Abacus merchandise here! |
| | |
| --- | --- |
| 20:00 | Get to know some of the most fun pubs in Enschede! |
| | |
| --- | --- |
| 16:00 | Inter-Actief kicks off the weekend! |
| | |
| --- | --- |
| 12:45 | Get to learn about all committees within Abacus! |
| | |
| --- | --- |
| 16:00 | Feel like a child again and come play outside! |