The 50th board of Wiskundig Studiegenootschap Abacus has the pleasure to announce the candidate board for the 51th board. We expect them to be constituted as follows on the 4th of September:
Chairman - Hugo Hof
Secretary - Wout Leemeijer
Treasurer - Cas Sitvast
Officer Internal Affairs & Educational Affairs - Justus Sleurink
Officer External Affairs - Fleur van Alphen
General Adjunct - Pranab Mandal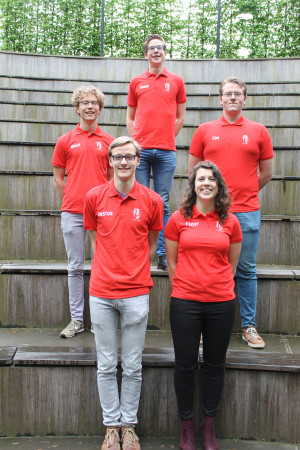 This morning the Education committee had the honour and pleasure to hand out another bouquet! Dr. Ir. Gjerrit Meinsma was the lucky teacher to receive it. In the past years it was evident that he put lots of effort in his work and his teaching. Many students speak only praises about Gjerrit. Congratulations!
Show image
On Thursday 8 March the 'Keuzegids Hoger Onderwijs' was published. The result for our Master's program in Applied Mathematics is very good: 84 points out of 100. This qualifies AM as a national Topopleiding.
This will be celebrate with drinks and bites on Friday 9 March at 15:00 in the Smart XP lab, together with the AM staff.
Show image
| | |
| --- | --- |
| 09:00 | A day full of interesting talks related to the theme `Don't Panic?!' |
| | |
| --- | --- |
| 16:00 | End the Symposium well at the after-drink. |
| | |
| --- | --- |
| 16:00 | Proto launches your weekend! |
| | |
| --- | --- |
| 20:00 | Interesting talks by interesting orators! |
| | |
| --- | --- |
| 12:45 | Tim van de Kamp will tell about his promotional research and he will explain about "provable security". |