After getting recommended in the first quartile both online and on campus, the education committee has decided to give Hans Zwart a bouquet of flowers. Last quartile, Hans gave the course Analysis II. Throughout this course he always made an effort to be involved with the students and their progress, he was also praised for being very amiable. This made the course a much more pleasant experience for the second year students. Therefor the education committee thinks that Hans has definitely earned this Bouquet. And as a final word to Hans, thank you for the good work!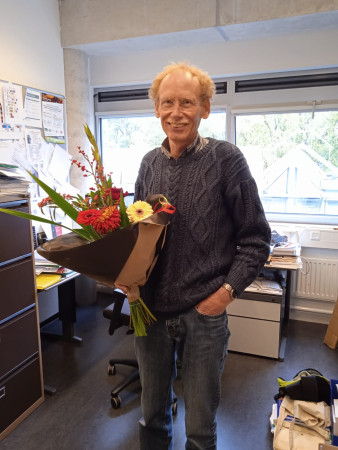 On Wednesday the 21st of December, the Christmas dinner of W.S.G. Abacus will take place. It will be a four course dinner which will be cooked by the Christmas dinner committee, with help of other Abacus members.
The Christmas Dinner will take place this year at "Speeltuin Stadsveld" in Enschede.
The dinner will start at 18:00 with the first course served at 18:30, and the costs for the dinner will be between 10 and 20 euros per person.
The enrolment opens on November the 28th at 12:00 and closes on December the 11th at 23:59.
Enrolling will be possible on the Christmas dinner website, which you can find via the button in the top-right.
Since the summer holidays a lot of new features have been added to the website.
To start, you can now search through all the quotes on the quote page and find out what crazy things you said while at Abacus.
Secondly, you can now find summaries of all your favorite subjects under 'Exams'. If you have a summary that you want on the website, send it to education@abacus.utwente.nl.
There is now also a section for the Game of the Week, where you can leave a review for your favourite and less favourite games.
Under 'Association papers' you can now find the freshmen mini-almanac, the Ideaal!, WHALEs and some other things, such as recordings of the Christmas stories.
Finally, under 'Education', a new section 'Bouquet' has been added where you can recommend a teacher to receive a bouquet from the Education committee!
| | |
| --- | --- |
| 12:45 | Come by the Abacus room for a homemade treat! |
| | |
| --- | --- |
| 16:00 | Come by and see if the Sint has something for you! |
| | |
| --- | --- |
| 19:00 | Gift a gift and play a Sinterklaas game with your fellow mathematicians! |
| | |
| --- | --- |
| 19:00 | A lecture from YAN (Young Alumni network) about quantum computing! |
| | |
| --- | --- |
| 16:00 | Scintilla kicks off the weekend! |