Last week, the Education committee has rewarded Nelly Litvak with a bouquet of flowers. She deserved this because of her hard work for the students and the effort that she put in her work.
Due to the current situation, the form in which lectures are given is very different and needs changing to fit the needs of students. Contact is also an issue, so hearing the opinions of students has become a lot more difficult. Nelly put a lot of time and effort during Module 1 in order to ensure the best possible support for first year students. She recorded interactive lectures for students to watch and learn through and ensured that a lot of material and possibilities to exercise were made available to students. This second one was done through quizzes, 3 problem sets, extra problems and practice exams. She in addition added a new feature to the course: tutor groups. Students were divided into 10 different tutor groups. These groups would meet once per week with an older year as tutor to discuss any issues the students might have, what they liked and disliked about the course and strategies on how to properly learn for the exam.
Nelly has tried to offer as much as she could to students and tried to give them a voice even in these times during which communication is not as direct and clear as we wish it were. She showed she cared about the students she teaches to and deserves, therefore, a token of appreciation for the passion she showed for what she does.
Thank you for your effort and hard work, Nelly. Keep it up!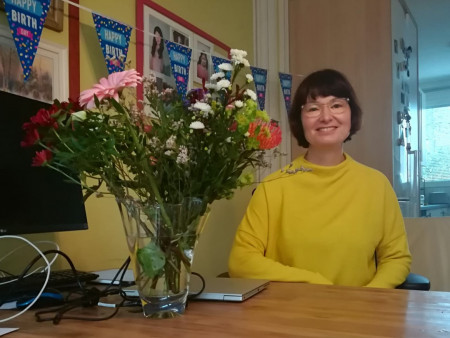 After the government made a Corona road map, we now made a Corona road map regarding Abacus! You can find it at 'Documents of W.S.G. Abacus' at 'Other Abacus documents'.
Due to the new corona measures we have decided to close the abacus room and the service desk until further notice. The university urges us to work/study as much as possible from home, so we as board will do that. Of course we are still available for all questions, complaints etc via WhatsApp or Discord. We hope to welcome you in Educafé soon, but for now, stay safe and stay home!

Much love,
The 53rd board of W.S.G. Abacus
| | |
| --- | --- |
| 12:00 | Join to participate in amazing challenges with your house! |
12:50

Lunch lecture Nedap @

Microsoft Teams(abacus.utwente.nl/go/LLNedap)

Nedap will come by to give a lunch lecture.
| | |
| --- | --- |
| 16:00 | Come by and see what Sint brought for you! |
20:00

GMA @

t.b.a.

The first GMA of the 53rd board of W.S.G. Abacus.
| | |
| --- | --- |
| 20:00 | Do you think you can unmask the mole? |