Exactly in time for the open days, on the 15th of November it has been announced which Bachelor programmes received the status of Top programme in the Dutch 'Keuzegids Universiteiten 2019'. The amount of Bachelor programmes on the University of Twente receiving this status has doubled this year from 4 to 8. Applied Mathematics is one of those newcomers!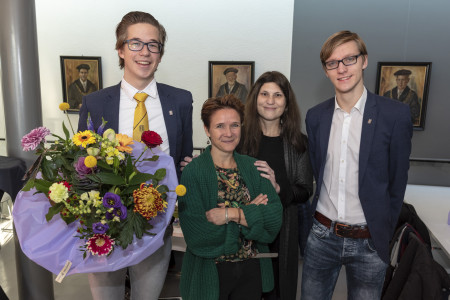 This year we're gathering gossip to use during the Sinterklaas drink on the 5th of December! Send it in here, and maybe Sinterklaas will be able to use it.
On September 3rd, at the opening of the academic year, several prizes were awarded. One of the awards given is the Brinksma Innovation Grant, which was won by Brigit Geveling for her experimentation on team-based learning. Brigit's research group received a year's financial compensation so that her research design can be developed further. Congratulations!
More on the award ceremony and Brigit's prize can be found here.
Show image
| | |
| --- | --- |
| 14:45 | The chair MACS organises a case to help you orientate for a master. |
| | |
| --- | --- |
| 16:00 | The Ab-Actie, in collaboration with Procam, is taking you to the Tapperij! |
| | |
| --- | --- |
| 18:00 | The Christmas dinner committee will provide you nice food! Enrol yourself here! |
| | |
| --- | --- |
| 16:00 | The (A)bac(ch)us kicks off the weekend! |
| | |
| --- | --- |
| 12:45 | A new edition of the Mathematical Lounge! |