Nelly Litvak is the winner of the Educational award and can therefore call herself UT Teacher of the year 2022. Thursday afternoon, in the finals in Waaier 3, she beat her colleague lecturers Farid Vahdatikhaki, Ipek Seyran Topan and Wallace Corbo Ugulino.
Each of the four of them gave a guest lecture in the half-filled lecture hall Waaier 3. Litvak, professor of algorithmic complex networks, got those present to think about the term 'distance'. In her lecture, named From A to B and Beyond, she sought interaction with the public through a short quiz. She showed, with the assistance of a picture of Manhattan – a borough of New York – how to calculate distance in a certain way: the Manhattan metric.
The patience of the lecturers and the crowd was put to quite the test after the lectures. It took the jury more than an hour to determine a winner. After that succeeded, Litvak was presented with a flower bouquet from jury chairwoman Anne Leferink, last year's winner. The jury described Litvak as 'patient and respectful'. She will also receive a cash prize of 2,500 euros and a certificate.
For the full article check out https://www.utoday.nl/news/71559/nelly-litvak-lecturer-of-the-year-2022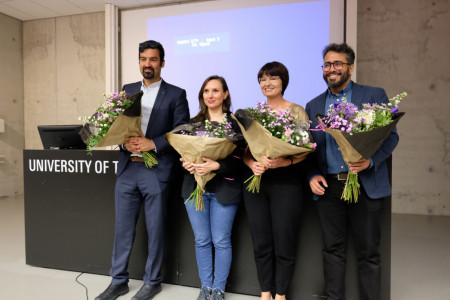 Like in previous years the Ab-Actie organised a chess tournament for all its members. It consisted of seven preliminaries, after which eight players were left to fight for the title. Matthias Kruimer, who went unbeaten in the preliminaries, wasn't able to beat Gerbert Leeftink for the second time in the Semi-finals and Jasper de Jong beat out Bodo Manthey in the other semi-final. Leaving us with the classic match-up between Gerbert Leeftink and Jasper de Jong and this year Gerbert won out and is the chess tournament champion of this year. It was a great tournament with 30(!) participants and a lot of great matches were played, hopefully, we will get just as many next year and once again we would like to congratulate Gerbert on his win!
Jorg & Niels (chess tournament organisation)
Show image
After getting recommended throughout the third quartile, the Education Committee has decided to give Matthias Walter a bouquet of flowers.
In this quartile, Matthias gave the course Mixed-Integer optimization. He put in a lot of effort into the course, which was clearly visible from the consistent quality of the micro lectures, as they were great to watch. On top of that we also applaud that it was easy to establish contact with Matthias as well as to receive feedback. These two factors resulted in a very pleasant experience for the master students who followed his course.
Therefore the Education Committee thinks that Matthias has definitely earned this bouquet. Thank you Matthias for all your hard work!
Show image
| | |
| --- | --- |
| 16:00 | Change clothing with someone else and you can win a free drink! There will be ice cream! |
| | |
| --- | --- |
| 20:00 | Where will you be dropped? |
| | |
| --- | --- |
| 20:00 | Nice talks about different mathematical subjects by students! |
| | |
| --- | --- |
| 16:00 | The (A)bac(ch)us kicks off the weekend! |
| | |
| --- | --- |
| 16:00 | Sign up to receive the epic Ideaal! puzzle booklet! |