Dear students,
At the moment there are many questions regarding the current form of education and related issues like TEM 2.0. Afterward the Q&A of Pranab Mandal of last week the following document was set up. This is meant to answer the most common questions. If there is anything you would like to know that is not mentioned in the document you can always get into contact with the officer of educational affairs (Linda ten Klooster), the study advisor (Lilian Spijker), or anyone else, depending on the question.
Here is the link to the document with frequently asked questions.
The 52nd board of Wiskundig Studiegenootschap Abacus has the pleasure to announce the candidate board for the 53rd board. We expect them to be constituted as follows on the 1st of September:
Chairman - Daan Velthuis
Secretary & Officer Internal Affairs - Luuk van der Werf
Treasurer - Daan Pluister
Officer External Affairs - Jorn de Jong
Officer Educational Affairs - Anouk Beursgens
General Adjunct - Clara Stegehuis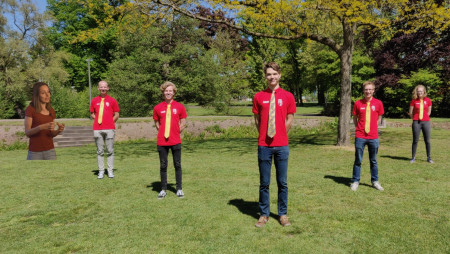 [Update 23/04/2020]
With this message we would like to inform you about the current state of Abacus and its activities the coming month, due to the Corona virus. As you probably all know, the university decided to cancel all educational related activities until the 1st of June. The government and RIVM also strongly advice to not organise and/or visit social gatherings.
We have decided to follow these guidelines and therefore we want to inform you that the Abacus room will not be open until at least the 1st of June until further notice. We will inform you about this as soon as possible. This also means that from now on all activities of Abacus are cancelled up and until the 1st of June. If you are already enrolled for an activity in this time period, then we will unenrol you and no costs will be incurred.
For all committee members, if you have questions about what this means for your committee please contact the board responsible of your committee.
We ask you to check your Canvas page as regularly as possible and check the UT mails concerning Corona carefully. Besides this, study advisors are still available for appointments. Contact them for concerns about your Binding Study Advice and/or study delay.
And in general if you have any questions please contact the board via board@abacus.utwente.nl
Kind regards,
The board of W.S.G. Abacus
| | |
| --- | --- |
| 12:45 | The SBZ daily board is looking for its successors! |
| | |
| --- | --- |
| 20:00 | Let's enjoy some Mojitos and B-52s! |
| | |
| --- | --- |
| 20:00 | Do you join this humorous party game? |
| | |
| --- | --- |
| 16:00 | Scintilla kicks off the weekend! |
| | |
| --- | --- |
| 20:00 | We will play several games on the internet! Are you the best? |