About Margriet Eijken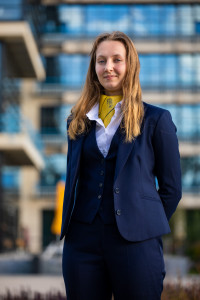 Hello there! After a long time delaying this action point, here is finally a piece about Margriet!

Margriet was born as a regular baby (some say at 10:54) on the 3rd of January 2000 in a hospital in Zwolle. Unfortunately, she missed the turn of the century, so she is not a cool 90s kid. However, that should not spoil the fun or this interesting story!

When she was little, she liked to play on the streets. One day she ran on the street, but that was not allowed by her mother. Her mother followed her, but she fell over a step and broke her leg, so Margriet is guilty of breaking her mom's leg. Her mother was even pregnant with her little sister, who was luckily born unscathed.

She went to the primary school called Mgr Zwijsenschool in Kampen. At first, she had a hard time with maths, but eventually she got better and even got in a 'plusgroup' for extra exercises. At the end of her primary school time, she joined the scouting Buys Ballot in Epe/Heerde, which she is still part of today.

She really enjoyed her musical to end her primary school time. The musical was specifically made for her school and was about a frozen fairytale forest. Margriet got to play the role of an ice queen, so you are allowed to either Ice her or call her Elsa. Some even say that the Fairytale forest in the Efteling is created because of this musical, but those are only rumours.

After her high school, Margriet (of course) went to the Ichthus college in Kampen. She did not have a hard time studying, so she had a lot of spare time to watch television, or do fun things with her friends. She even tried doing Athletics, but she did not enjoy doing outdoor sports in the winter, so she quit eventually. In school, she did not like the course History, but luckily that time has past (haha).

In her final years of high school, she chose to do the beta profile with Math D and handicraft, because she found that handy to follow. She even did Cambridge English and Delf Frans, extracurricular education in these languages, so you can really say that Margriet has a language knob. However, this language knob did not help her with talking to other mathematicians, since she barely spoke with fellow high school students and future predecessor Luuk at those times.

Margriet chose to sign up for Mathematics in Enschede because of her few student-for-a-day days. She also went to the creative studies Industrial Design and Creative Technology, but this introduction day given by Justus was very pleasant. She even got to learn Taipan and immediately found out that freshmen are very passionately annoying about this card game. This thought disappeared in her freshman year, but has returned soon after.

The first experience of Margriets Kick-In was very unpleasant, as she was lonely walking through the opening fair. However, once she joined the do-group the Attractive Magnets, she really got attracted to student life. She soon joined the PixCie, since she found that an easy committee, and has been making pictures during activities for over three years now. In her freshmen year, she did not only play Taipan, because she thought: 'let's start doing sports again', so soon she joined the table tennis association DTTV Thibats, where she occasionally hits a ball.

Later on, Margriet really enjoyed being a do-group parent at her second Kick-In. She also did a lot of fun things with the group 'fun things'. At W.S.G. Abacus, she eventually joined the NWS committee ('vo) since she first wanted to do a bigger committee before deciding whether she wanted to do a board year. During the Covid pandemic, she thought more and more about doing a board year at WSG Abacus, and eventually she applied. At the NWS committee, she really enjoyed being the officer of external affairs, so her preferred function in the 54th board was not hard to guess.

And there we are now, hopefully more informed about the officer external affairs of the 54th board of W.S.G. Abacus. If you want to know more about Margriet, feel free to come by the Abacus room or an Abacus activity, because Margriet will most-likely be there.
xoxo,
MtS & JdJ