Over Tugce Akkaya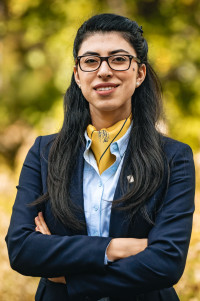 Deze tekst is niet beschikbaar in het Nederlands.
Hi reader,
When I was asked by Pranab Mandal to be the general adjunct of the 52nd board of Abacus, I thought that might be a good opportunity to introduce myself and to know the students since I was new in the Math team. I have been working as a lecturer at UTwente since November, 2017. I completed my MSc program in Applied Mathematics at Celal Bayar University in Manisa, Turkey in 2011, and I obtained my Dr. degree in the Mathematical Physics group in the Delft Institute of Applied Mathematics at Delft University of Technology (TU Delft), The Netherlands, 2017. My interest in science dates back to my years in high school where I excelled in Mathematics, Physics and Philosophy. The meaningful words of Galileo Galilei: 'Mathematics is the language with which God has written the universe' inspired me to study Mathematics. Debates with my professors on their publications made me aware that I had a lot to say on the topics I studied. Ever since then I have wanted to pursue an academic career.
During my PhD at TU Delft, December 2014- January 2016, I was a member of Faculty PhD council. I was involved in organising PhD events and visits to companies to broaden the knowledge of all PhD candidates, and I gave constructive feedback and proposed improvements on the regulations of the Graduate School such as PhD start up, doctoral education, supervision, etc.
As being the general adjunct of the 52nd board of Abacus, I am excited to share my experiences with the board members, and happy to be part of the Abacus team.
Kind regards,
Tugce Akkaya