Over Daan Velthuis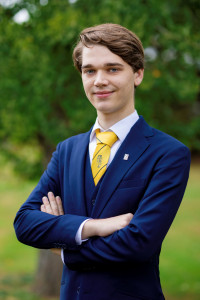 Deze tekst is niet beschikbaar in het Nederlands.
Dear reader,
Welcome to my page. My name is Daan Velthuis and I am the chairman of W.S.G. Abacus.
My life began at eight past eight on the eighth day of the seventh month of the year 2000 in Enschede. You would say I was born a month too early, but my mother begs to differ as I was already 53 cm big. I was the second of three sons in my family, all born within three years. Besides the small difference in age, I and my brothers also are quite similar in interests and this resulted in us always having two friends at home or during vacation.
When I was six years old, I and my older brother participated in a running competition. We had very different outcomes. I discovered my love for athletics and my brother found out he had asthma and stated he never wanted to run again. As a small kid I practised all events, but throwing (first a ball, later a javelin) was my favourite event. As I grow older I became taller and I specialised in high jumping. In school I developed an interest in arithmetic, which developed even further when going to high school and getting the first math courses. My school was a partner school of the University of Twente and that is how I became familiar with the campus already at a young age.
Apart from school, I got my first jobs when I was fifteen years old. I became a paper delivery boy, a tutor in math and a trainer at my sports club. In the field of mathematics, I participated in many competitions, for example the Twentse Wiskunde Estafette, my first contact with Abacus members. I also competed at the Dutch Mathematics Olympiad for multiple years, which resulted in a fourth place finish in my last year. I got in the selection team and followed a year of training from which I have learned a lot.
Due to already knowing the University of Twente and having a passion for math, it was an easy choice for me what to study after high school. I immediately liked the atmosphere when joining the Kick-In and I joined the freshmen committee because I wanted to be more involved in the association. In my second year I became a member of the www.com, the EEMCS-trip committee and the Twick-In 2020. Although that was a high number of committees, I even wanted to be more active, which is one of the reasons why I applied for doing a board year.
So that brings us to the present. I hope you enjoyed reading and see you soon in the (virtual) Abacus room.
Kind regards,
Daan Velthuis
Chairman of W.S.G. Abacus