Over Daan Pluister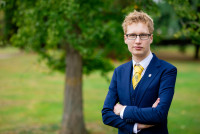 Deze tekst is niet beschikbaar in het Nederlands.
Dear reader,

My name is Daan Pluister, since you may have noticed to the right, there are two Daans in the 53rd board of this association. Therefore I also go by as Pluister. But let's not step too far ahead and go back where it began.

June 15 1999, in Heerhugowaard, a place you pass by when you go from Amsterdam to Den Helder by train, a boy was born. This boy was actually me. In primary school I was a boy who was a bit quiet and shy, but I was always shining.

I went to high school at Jan Arentsz in Broek op Langedijk, where I have met a lot of friends. In my third year I had a mathematics teacher that gave me energy to enjoy mathematics even more than I already did. Energy in the form of Snickers, because when you got a high grade you would get a Snickers. After three years you had to go to a bigger Jan Arentsz in Alkmaar, where I chose the subjects in the NT profile.

During high school I played Minecraft, where I would recreate the Dutch railway system with my brother, since the networking and scheduling of the trains interested me a lot. In my last year of high school I participated in the Kilometer Kampioen with my little brother. Here it was the challenge to ride as many kilometers by train in the Netherlands in 24 hours. Therefore I didn't mind driving three hours by train every week from Heerhugowaard to Enschede. For example, when there are maintenance works so you have a good excuse to take a completely different route. Once I even went via the Afsluitdijk and Leeuwarden.

When I started studying in Enschede I chose to do mathematics, but I also loved the computer science class at high school. To make up for this I joined the www.com at W.S.G. Abacus right away. Here I have learned how much more there is to Abacus than I would think at first. Some old board members could tell me stories about the room that amazed me.

Because I loved the Kick-In very much I became a Do-group parent and later a member of the Twick-In 2019. When we created the games and set down a great camp as a team I figured out what you all can do when being an active student. This inspired me to do even more for Abacus. I also wanted to inspire everyone to get as much as you can out of your student life.

And thus I ended up in the 53rd board of Abacus. Now after prolonging writing this piece I can already tell that the first half year of the board was a lot of fun. Although it being online there is still a lot of stuff you can do. The most fun parts are when you can have small talk with the members when they are visiting me again for free notebooks. Or when there is an activity in Gather.Town where you can just hop from conversation to conversation and hear each other's stories.

I am excited for what still has to come. Because for the last quartile we still have many ideas and activities. For example the Active Members Weekend, and hopefully we can still have a drink this year.

Daan Pluister
Treasurer of the 53rd board of W.S.G. Abacus